We attended the Catex Trade exibition recently & were delighted with the very positive reaction to our range of dishes for the catering trade.
The owners of Harrys Restaurant are opening a brand new branch in Derry's Crafts Village. Here is one of the cappucinos that we made specially for them
New delivery rates
We are now offering maximum delivery charge within Ireland for only €10 per order
Delivery to the UK only €20 per order
We have just delivered a large amount of our pottery to the Giant's Causeway Visitors Centre.
We make a specially designed collection of pots for the National Trust shop and we are proud to have been suppliers for over 20 years.
This year we celebrate 40 years in business. We are going to have a special weekend during August to mark the event.
Watch this space !
This is RoCo, the fabulous hair & beauty salon who have commisioned Moville Pottery to make the selection of cups & dishes for their new Brew Bar. This will be opening next week at their riverside premises in Derry.
Below we have Chef Roberto Ruiz of the Micheline starred Punto MX in Madrid. We are currently working on an order for this prestigeous restaurant.
ROBERTO RUIZ
—Chef—
His proposal is based on the synergies found to bind the roots of Mexican cuisine with cutting-edge cuisine and quality that Spanish produce offers.
@RobertoPuntoMX
The McGettigans group has just opened their lastest trend setting pub in Bray, Co Wicklow.
We are very proud to be the suppliers of their branded dishes.
Best of luck to all in Bray
We are currently working on an order for Restaurante Rojo Negro & it's sister restaurant Luzia, both located in Barcelona.

We are looking forward to shipping their little jugs very soon.
Here we have Donal from Harry's Shack with our own Brian when the latest delivery of plates & jugs was made to the very popular North Coast restaurant.
We are delighted to now be stocking Donegal Pens in our shop. These beautiful hand turned wooden pens are available in a wide selection of lovely woods including our own Donegal Bog Oak. They provide the perfect gift for someone a bit special. Or indeed the perfect treat for yourself.
This beautiful roof top restaurant is part of the Serras Hotel which has just opened on the sea front in Barcelona. This new Luxury Boutique Hotel will be taking delivery this week, of a selection of Moville Pottery dishes.
Above is the Cosy Cottage situsted in our own town of Moville.This lovely cafe has been a firm favourite of both locals & visitors for many years. They offer a wide range of freshly, home cooked tasty food.
Sadie & Declan who own the Cosy Cottage now have a full set of Moville Pottery mugs, cups & saucers etc. We are delighted that the reaction has been so good from all their customers who appreciate how our stoneware mugs keep their tea good & warm for them.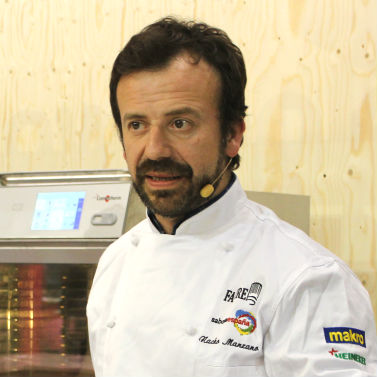 Above is Chef Nacho Manzano who is the propritor of Restaurante Gastromania in Barcelona. This two stared Michelin Restaurant is the latest in Spain to order dinner ware from us.
We have recently received an order for our pasta bowls from the
EL CENADOR DE AMOS Restaurant in Cantabria which is in northern Spain. This adds further to the number of restaurants we now supply with plates and dishes, throughout Ireland and Europe.
During December we have been very busy with our Christmas inspired items and decorations including our handmade snowmen, snowmen mugs, and holly design oil burners and mini sugar and cream sets which are all proving very popular with our customers.
Our friends at Harry's Restaurant in Bridgend, Co Donegal, have just opened a sister restaurant in Portstewart. This is in association with the National Trust & it has been a roaring success. We are indeed delighted to have again been the suppliers of the dishes & plates used in Harry's Shack, on the beach in Portstewart.
McElhinneys Department Store in Ballybofey are now stocking a comprehensive range of Moville Pottery, Kitchen & Dinner ware, in our fabulous Galaxy finish. This is the same finish we supply to the five star Solis Lough Eske Hotel for use in their guest rooms & throughout the hotel. This is also the finish we supply to the exclusive Coure Restaurant in Barcelona.
We have just recieved word from Coure Restaurant in Barcelona, that they are delighted with their new dishes.

Delighted your customers like them so much!
Chef Martin Anderson from the The Crest Catering Company has been nominated for the Best Chef in Donegal award from the RAI of Ireland . He is the main supplier of delicious food to the fantastic new Moonshine Coffee Shop & Restaurant.
Here at Moville Pottery we are are proud to be the main suppliers of table ware to the Moonshine Coffee Shop.
Best wishes guys!!
Common Grounds coffee shop in Belfast . We are proud to now be the main suppliers of pottery to this award winning establishment. We have delivered a suite of cups & mugs including latte & capuchino cups for the Common Grounds customers to enjoy the superb, award winning coffee from.
We were delighted to have have been chosen to be one of the suppliers of premium tourist products for the Derry/Londonderry City of Cultuer 2013. We submitted two products, a hand made mug & a mini sugar & cream set.
| | |
| --- | --- |
| | Harry's is renowned for using the very best in locally sourced raw materials in the production of their wonderfull food. They have now taken this approach to another level by sourcing the dinnerware locally as well. We have been working with Harry's manager Donal & his head Chef to produce these specially designed dishes. |
| | |
| --- | --- |
| The Mill Restaurant in Dunfanaghy has also placed an order for specially designed dinnerware for their wonderfull establishment. The Mill is renowned for its fantastic menu & superb ambience. Its is situated in one of the most picturesque settings in County Donegal. | |